Fostering links with Montenegro
Two recent events have expanded EMBL's collaboration with one of its newest member states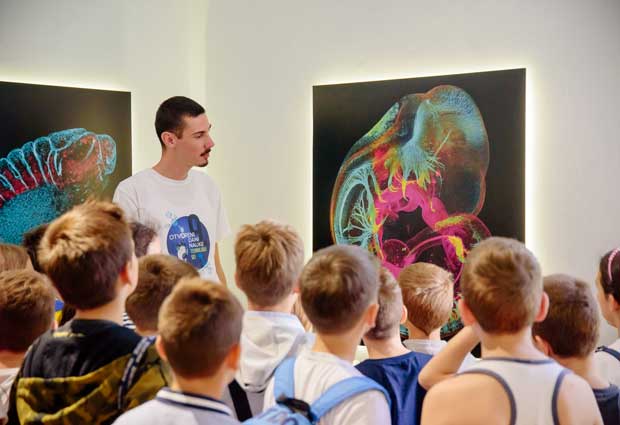 Since Montenegro joined EMBL as a member state in 2018, several events have taken place with the aim of fostering collaboration and introducing scientists from Montenegro to the research facilities and training offered by EMBL.
Members of EMBL's Arendt group recently travelled to Montenegro to run a practical course on single-cell dissociation and analysis at the University of Montenegro's Marine Biology Institute in Kotor. The 3-day course was aimed at students from bachelor's to PhD level, and included participants not only from Montenegro but also from Croatia, another EMBL member state.
The workshop, run by EMBL group leader Detlev Arendt, project manager Francesca Stomeo, and postdoc Phil Oel, introduced students to single-cell dissociation methods in marine animal models: a first step towards studying organisms at single-cell resolution. These approaches allow biologists to characterise cells and tissues from a broad range of organisms, and to chart the natural diversity of animals in ecosystems worldwide. This equips the students with skills that are widely used in biological and biomedical research, both in academia and industry.
"The workshop was very intensive and involved several long days," says Oel, "so we were really impressed by the excitement, dedication, and commitment shown by the students."
"The intention was to share good practice and increase the students' knowledge and practical skills," says Danilo Mrdak, one of the EMBL Council delegates from Montenegro. "We also wanted to present some of the opportunities arising in this research area from our membership of EMBL. We hope that some of the students will soon make a return visit, to experience the services and training available to them at the EMBL sites."
Living universe
Each year, the Ministry of Science of Montenegro organises a five-day event called Open Science Days, in which scientific institutions, schools, and museums across Montenegro open their doors to visitors.
This year, the event kicked off on 1 October in Podgorica with the opening of an exhibition attended by Minister of Science Sanja Damjanović. The exhibition, called Bio-Cosmos, featured 20 of the most impressive science images from EMBL's groups and sites.
"Our intention was to present the life sciences in a different light: attractive not only to specialists but also to those who are not trained in science – or not yet," explains EMBL Council delegate Djurdjina Bulatovic. "Our expectations were fully met, as we observed the highest level of interest and enthusiasm among the youngest visitors and their parents. The exhibition was a significant step forward in terms of promoting the life sciences in our country, and it was made possible thanks to our EMBL membership and the willingness of EMBL to engage in outreach activities like this."