ERC Scientific Council meets in Heidelberg
EMBL and EMBO hosted the ERC's Scientific Council in Heidelberg for its first plenary meeting in Germany since the launch of the European Research Council in Berlin in 2007.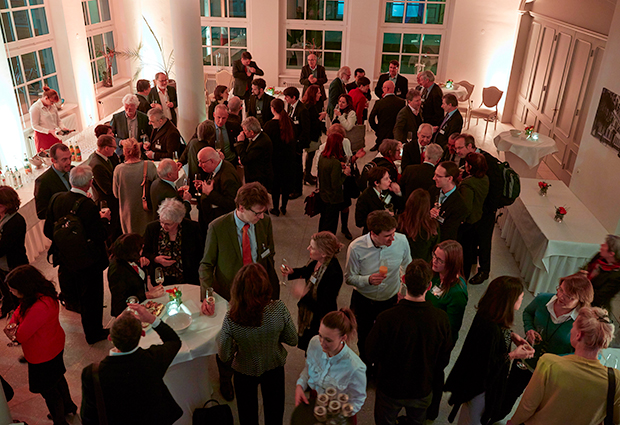 EMBL and EMBO hosted the European Research Council's (ERC) Scientific Council in Heidelberg 28 February to 2 March.
More than 20 ERC Council members joined ERC President, Jean-Pierre Bourguignon, for a three-day meeting held on EMBL's Heidelberg campus to discuss topics of strategic importance for the funding body. As part of the meeting, Council members had an opportunity to mingle with local scientific leaders and ERC grantees from Southern Germany at a formal dinner at the Prinz Carl Palais in Heidelberg. An open workshop stimulated exchange between ERC representatives and the local life-science community on the opportunities and challenges of applying for and obtaining an ERC grant in the life sciences.
"It was a big honour for us to host the ERC Scientific Council here in Heidelberg for its first plenary meeting in Germany since the launch of the ERC in Berlin in 2007," says EMBL's Director of International Relations, Silke Schumacher, who organised the event together with her team and EMBL's Courses and Conference Office.
The ERC was set up by the European Union to encourage high-quality research in Europe through competitive funding. It funds investigator-driven frontier research across all fields, on the basis of scientific excellence. The ERC is governed by a Scientific Council, composed of eminent scientists and scholars from a variety of scientific disciplines, among them EMBL-EBI Director Emeritus and Senior Scientist, Janet Thornton, and several EMBL alumni.
"EMBL and the ERC have a lot in common," says Janet Thornton. "They are built on the principles of promoting excellence and giving researchers the scientific independence and financial stability to engage in high-risk research. So, it is only fitting to hold our meeting at EMBL this time."
Both institutions also share a piece of history. They have been shaped and guided by visionary Greek biologist Fotis Kafatos, who was EMBL's 3rd Director General before he became the ERC's founding president. Fotis Kafatos passed away in November 2017.