The challenge of diversity
Dr Cristian D. Magnus discusses LGBTQ+ issues and diversity in science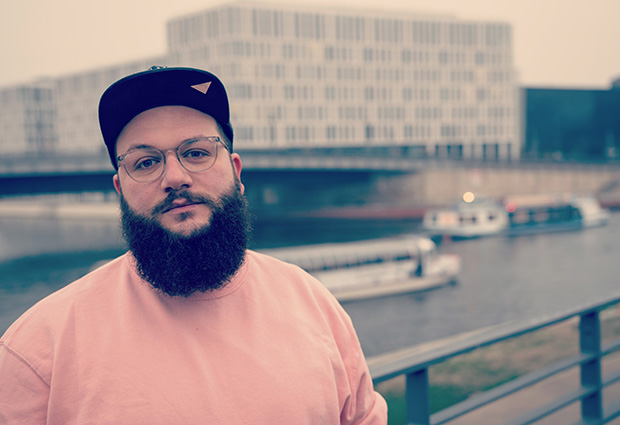 LGBTSTEM Day, the international day of LGBTQ+ people in science, technology, engineering, and maths, took place on 5 July. The LGBTQ+ group at EMBL marked the day by organising various activities, including a talk and a diversity awareness workshop led by EMBL Alumnus Dr Cristian D. Magnus. During his PhD, Magnus worked at EMBL's Human Resources department in the training and development program. Now he offers coaching and training for individuals and organisations as 'the Queer Coach'. In an interview following the event, Magnus answered questions about his experience with scientific institutions.
How would you describe your work as a queer coach?
I do workshops, I do training, consulting and also individual coaching. So 'queer coach' is just a name to give these things a roof. I think, generally, you always have to change structures that discriminate against people and you have to empower individuals. I'm trying to do both in my work.
You've also made presentations at some of the Max Planck Institutes. Have scientific institutions shown a special interest in booking your services?
I think that, like any other institution, they have an interest in talking about these topics now, because these topics have become more prominent. Topics such as women in science and also LGBTQ+ people and allies. The problem often is: who do you invite? I think it helps that I have been socialised as a researcher myself, even though it was in the social sciences. I have done research on research institutions and understand the pressure that researchers are under and what that does to power structures and how people interact. Of course, I don't know every individual case of every institution, but it gives me a pretty good idea where to start and what kinds of questions to ask, which is my job when I come for coaching and consulting.
Does the mindset of natural scientists sometimes clash with your social science perspective?
One would think so, but not at all. I think it's very complementary. A biologist might say: "Well, there is a biological difference between men and women." And then I will answer: "Yes, but how does that explain the gender pay gap?" So, having different viewpoints of the world, different explanations, that's a really a good thing. It enriches the other perspective and gives a bigger picture, instead of saying "everything is a social construct" or saying "no, everything is biology and men and women have done this since they lived in caves". This is what singular perspectives often do: they choose only one explanation. So, no, it doesn't clash.
Are there problems that LGBTQ+ people face in STEM workplaces specifically?
Well, LGBTQ+ individuals are a wide variety of people. So of course, they experience distinct forms of discrimination, but I think it's more about problems and challenges. There are very different experiences for individual groups. Generally, in STEM fields, you can see that there is a lack of women in leadership positions. Also, it's generally harder for an LGBTQ+ person to get a position compared to someone who is not outside the box, not outside the norm when it comes to sex and gender. There are studies on that.
Studies show us that there are three factors that promote homophobia, transphobia and biphobia, in STEM or any other field. First of all, a strong sense of masculinity, which means that people who are assigned a male role are supposed to be strong and vigorous. That is usually very important in patriarchal societies. The other factor is discrimination. If you are discriminated against, you are more likely to discriminate against others. The third aspect is strong religious views, which are, again, connected to a certain sense of masculinity and often don't allow variations of sexual identities like homosexuality. Some of these aspects are prominent in STEM fields with a dominant male representation.
I also want to point out one other thing about research institutions: organisations that are detached from universities and have a very high excellence in what they're doing. People often think that since they're far ahead in some fields and a very select bunch of interesting people, there are also fewer problems around LGBTQ+ issues and that they probably already are very open. But, when you dig a little deeper, you find that even these institutions still struggle. They struggle with the implementation of policies, but also just with the day-to-day talk, because there's an influence from people all over the world, also from countries where homosexuality doesn't even exist openly. It's a hard job for these institutions to integrate all of these people and still have clear guidelines and codes of conduct. Diversity is really an achievement and I don't think it's as easy as people sometimes think. I experience that a lot: "We are super open here," and then it turns out that there is still a lot of work to do. When that becomes clear to people, it's a very important first step to start change.
Are people who participate in your workshops usually interested already in reflecting on their views, or do you also have participants to whom the whole diversity topic is very new?
It varies. A lot of them are already open and already interested in how they can benefit from this, and how they can be more inclusive. But then there are also people who are dragged there by their colleagues. That's important for the impact that it has on an organisation. People will return to their lab after the workshop, and that's where the real work begins. Even if they were already interested, now they will have new ideas that they can bring in and start making changes, even if it's little things. Or they will just have a better understanding and some ideas, for example, on how to stop bullying. They can become advocates for organisational change. To me, it's not very important if these people belong to the so-called 'island of the willing'; for me, it is important that they are there and that we give them something they can take back into their daily work.
Related links