EMBL PhD students reunite 20 years on
Among refurbished labs, alumni relive memories and find traces of their time at EMBL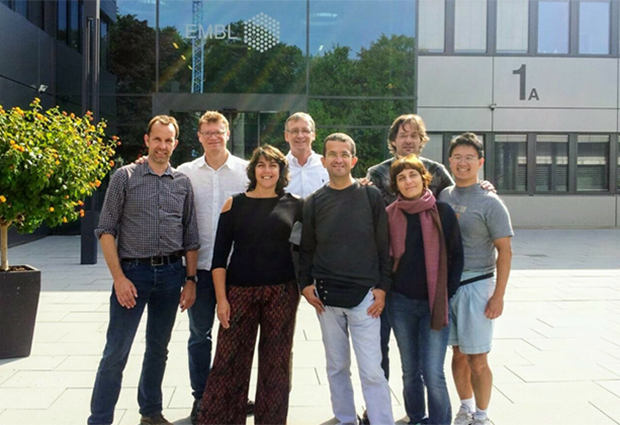 Alumni who joined the EMBL International PhD Programme in the early 1990s meet in Heidelberg 20 years after graduating.
Former fellows of EMBL's International PhD Programme reunited at EMBL in Heidelberg on 23 September, two decades after finishing their PhDs. They toured the lab and reminisced about past times.
The group visited their old labs, many of which have changed as techniques developed and research focus shifted. Here is the group in a newly refurbished lab, located where some of them used to work.
It was a tour of rediscovery, as the group recognised old corridors and laboratories interspersed with newer areas. Isabel Palacios, who is now at the University of Cambridge, even found her name still inscribed on a cold room door!
The tour carried on to the Szilard Library, where the group were delighted to see most of their PhD theses gracing the shelves. Nevertheless they did not quite find everything they were looking for at EMBL: "We wanted to greet Claus Himburg, the chef from when we were here," says Isabel Palacios. "He was able to wish you 'bon appétit' in 20 different languages! He always made us smile and was the heart and soul of EMBL, but he retired a few years ago."
Editor's note: Rest assured though that the EMBL Heidelberg canteen continues to thrive with Claus' creative and international spirit under the leadership of Michael Hansen.
The eight alumni, who come from 7 different countries, re-lived that transformative part of their scientific lives. "We had so much fun, sharing stories – we were laughing most of the time we were together and have decided definitely to meet again, well before the next 20 years pass," explains Palacios.
Some of the most fascinating questions in science are about origins. As part of our latest editorial theme, we're exploring the idea of origins at EMBL. We want to talk about the origins of biological systems, about our people and the paths that brought them here, and the discoveries and ideas that have their origins here.