EMBanniversary AUSTRIA
More than 40 speakers, session chairs and special guests representing the Austrian molecular biology and life science community celebrated the 50th and 40th anniversaries of EMBO and EMBL and their impact in Austria, at a dedicated event in July.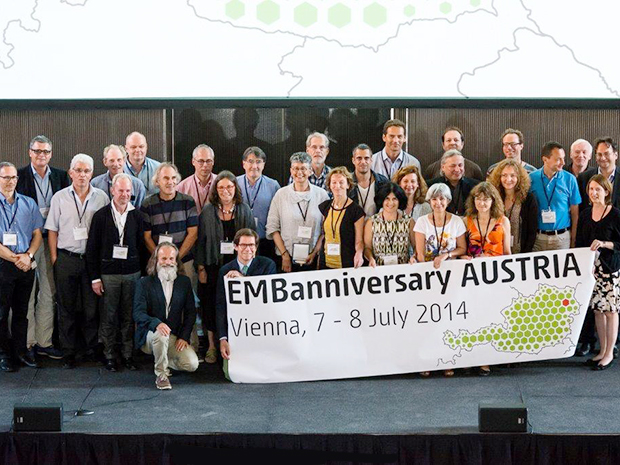 By Marc Brehme
EMBanniversary AUSTRIA, a unique fusion of a scientific conference, alumni reunion, science and society, and science policy event, started with a welcome gathering on the rooftop terrace of the CeMM (Research Center for Molecular Medicine of the Austrian Academy of Sciences) in Vienna on 6 July, followed by a two-day conference in the beautiful Jesuitensaal of the Aula der Wissenschaften.
The event included seven scientific sessions, thematically named after eminent Austrian scientists – including Gödel, Landsteiner, Perutz and Mendel – with speakers and session chairs having direct links to Austria and EMBO or EMBL, either through past employment, prizes or fellowships.
EMBL Director General Iain Mattaj (pictured below) delivered the Wittgenstein Lecture entitled 'Looking into the future of molecular biology through the EMBL lens'. Kim Nasmyth, a former director of the Research Institute of Molecular Pathology (IMP) now at the University of Oxford, delivered a second special lecture, the Freud Lecture.
We are here to celebrate Austrian science, EMBL and EMBO – at the latest when the IMP started up, those became inextricably linked – Iain Mattaj (EMBL)
Austria would not have a molecular biology operation without EMBL and EMBO… Long live molecular biology, long live EMBL! – Giulio Superti-Furga
Following a passionate commendation by Nasmyth, CeMM CEO and Scientific Director Giulio Superti-Furga (pictured above) – Chair of the EMBL Alumni Association Board, and the event initiator and co-organiser – presented the Austrian Chapter Achievement Award Medal to Max L. Birnstiel, founding director of the IMP in Vienna. A second award was presented to Denise P. Barlow, Principal Investigator at CeMM, in recognition of a lifetime of outstanding research in molecular biology and for contributions to the EMBO and EMBL community in Austria.
The award ceremony was followed by a lively round table panel discussion on 'How to promote molecular biology?'. The panelists – Maria Leptin (EMBO Director, pictured below), Hemma Bauer (Austrian Federal Ministry of Science, Research and Economy) and Renée Schröder (Max F. Perutz Laboratories, Vienna) – inspired, challenged and engaged the audience in a vibrant debate about the impact and future of molecular biology and the significant role of life sciences research in Austria.
What we have heard and seen from the EMBO and EMBL community at this meeting has been utterly stunning – Maria Leptin (EMBO)
EMBanniversary AUSTRIA concluded with a reception that provided additional opportunity for video interviews, networking and reminiscing among the guests and friends, new and old.
Short video featuring impressions and interviews with EMBanniversary AUSTRIA speakers and special guests:
Scientific organisers: Giulio Superti-Furga (CeMM and Chair of the EMBL Alumni Organization), Denise Barlow (CeMM), Norbert Kraut (Boehringer Ingelheim RCV GmbH & Co KG) and Gábor Lamm (EMBLEM GmbH)
Conference organisation: CeMM – Research Center for Molecular Medicine of the Austrian Academy of Sciences, Vienna