EMBL Alumni Association Board update
EMBL Alumni Association Board review progress and discuss new initiatives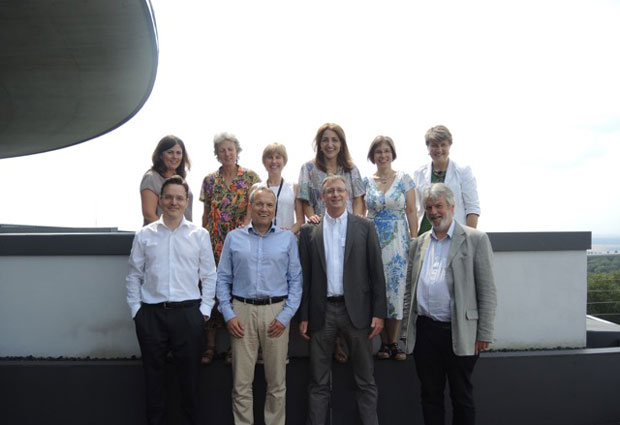 By Sarah Sherwood
Progress and celebration were the order of the day at the 27th EMBL Alumni Association Board meeting, held 22 July at EMBL Heidelberg.
The packed agenda included both updates on alumni activities already underway and proposals for new initiatives.
Board members rose to the calls to action to encourage alumni to donate time, materials and stories to the EMBL archive; to learn more about course and conference opportunities at EMBL; and spread the word about and support the fall gala dinner themed on ocean biodiversity.
Joep Muijrers (EMBL PhD student, 1997-2001) pitched a new type of conference that would bring together top industry figures and leading scientists to explore future opportunities and challenges in science. This idea received enthusiastic feedback and a pilot event is being considered for Spring 2018.
Annabel Goulding (Senior Personnel Officer, 2002-2011) and invited guest Rosie Maccagnano (Senior Administrative Officer, 1998-2007) presented an outline for establishing an EMBL Alumni Volunteer Programme. The programme would provide a platform for EMBL alumni to offer their time and expertise in ways to benefit the entire community, and to be formally acknowledged for their efforts.
Following a presentation by Christian Scherf, EMBL's Administrative Director, participants quickly identified important opportunities to strengthen awareness of and participation in alumni activities by former administrative staff, who like EMBL's scientific alumni can strongly benefit from and contribute to the network's activities.
After the meeting, Board members met with and congratulated the recipients of this year's John Kendrew and Lennart Philipson awards, Jop Kind and Ernst Stelzer respectively. Both prizes are awarded by the Alumni Association.
There are currently 7294 former EMBL staff members across the world, half of whom belong to the Alumni Association.