Uniting alumni at The EMBO Meeting
Staff and alumni had the opportunity to catch up over drinks, exchange information, reconnect with former colleagues and make new contacts at The EMBO Meeting on 7 September 2015.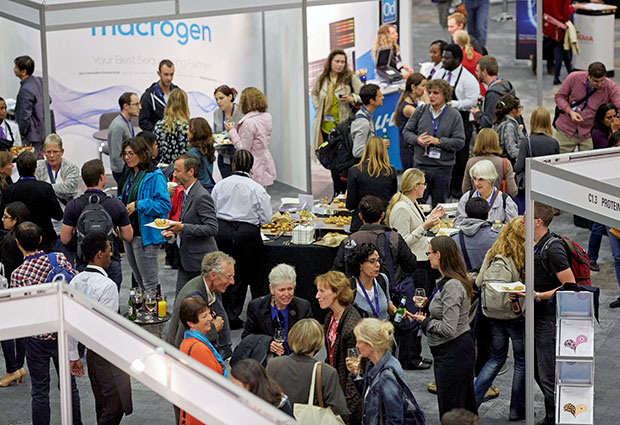 A drinks reception was followed by dinner at Cielo's restaurant in the lively environment of Birmingham's Brindley Place. "Holding our reception at The EMBO Meeting – and its predecessor the ELSO Meeting – has been a priority for us since 2005, benefitting from an event that generally attracts the EMBL/EMBO community at large," says Matthias Hentze, EMBL Director. We catch up with two members of the community attending the event.
Curi(e)ous connections

Genevieve Almouzni
Now: Director of the Research Centre, Institut Curie, Paris, 2013-current
CNRS Research director, Chromatin Dynamics Team, 1996-current
At EMBL Heidelberg: 2005–2010, Scientific Advisory Committee member
Relationship with EMBL… I learnt about EMBL's role and exceptional science while serving as a member of the EMBL Scientific Advisory Council. This has been a reference point for me ever since. I really enjoy interacting with groups at EMBL and feel I have been adopted into the community. So much happens all the time at the Lab that, as a scientist, you want to keep in touch with this . As a director, you want to foster exchange at many levels to develop your own approach.
Defining qualities of the IC…My predecessor at the Institut Curie (IC), Daniel Louvard, was an EMBL alumnus, who headed the organisation for two decades. Under his leadership, cell biology and developmental biology have really taken off, along with the interface between physics and cell biology. Already at this time, great efforts were made to promote young investigators: I am living proof as the first junior group beginning at the institute – how time flies! My vision is to build on these areas and assets and take them much further with a spirit that I call Curi(e)osity. The challenges ahead are to ensure an exciting environment in which collaborative and collective efforts are rewarded, and the IC presents some unique opportunities to do this. With its four broad programmes focusing on the biology and chemistry of radiations, cell signalling and cancer; development, cancer, genetics and epigenetics; integrative tumour biology, immunology and environment; and multi-scale physics-biology-chemistry and cancer, IC merges both multidisciplinary and international research. We also have connections to the hospital, which we would like to further develop to establish our position as an internationally top ranked centre of research in cancer biology.
Researcher vs Director… Clearly important are networking events, such as this one, which present great opportunities to exchange ideas – it can also lead to great collaborations, something that is key to balancing scientific activities with that of Director!
---
Integrating information
Nicolas Le Novère

Now: Group Leader, Babraham Institute, Cambridge
At EMBL: 2003–12, Group Leader
Research focus… I organised a special interest symposium around this year's EMBO Meeting themed on the systems biology of epigenetics and cell fate. We wanted to showcase success stories of interdisciplinary research featuring computational and experimental work. An interdisciplinary approach is very much a part of my own research: since leaving EMBL-EBI and joining the Babraham Institute three years ago, I have expanded the type of bioinformatics that I do besides computational modelling, for example in the direction of lipidomics and gene expression. I find the domains of stem cells and epigenetics hugely exciting: linking cellular signalling, metabolism and epigenetics is crucial for understanding cellular reprogramming, or the basis of longevity and healthy ageing. These questions are not just biological and as a modeller they present some exciting challenges. Currently, there are many modelling approaches on many different levels and ultimately we want to integrate this information in multi-scale models to develop a global understanding of cell response to the environment.
Life at the Babraham… The Babraham Institute is small but prestigious. Historical discoveries made here include the liposome, IP3 and PIP3 signalling and maternal imprinting by DNA methylation, and this excellence continues today. Like at EMBL, there is also a vibrant seminar series and social events that enable people to stay updated on the latest science at the institute. I did not cut all bridges with EMBL-EBI though. When I left, part of my group responsible for developing resources for computational systems biology such as BioModels, stayed behind in Henning Hermjakob's team and we maintain strong collaborations to this day.
Memories… I nevertheless miss the family spirit of EMBL – during nine years at EMBL-EBI, I felt my office was part of my home and my co-workers were my friends. I also miss the group leader retreats – especially the discussions, the post-it note activities, and walks along the beach. Who would have thought I would ever say that?!