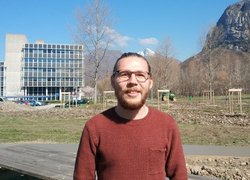 Tips from Harald

Q: Why did you choose to do your PhD at EMBL?

I am highly fascinated by proteins and how these molecular machines work so accurately. Since my bachelor studies in molecular biology, I have been enthusiastic about structural biology. Having completed both my bachelor's and master's theses in structural biology, I was certain that I wanted to stay in this field and start a PhD.

When I started looking for positions, I came upon the EMBL PhD programme, which I had already heard of. With EMBL's renowned expertise in structural biology, especially at the Grenoble and Hamburg sites, I thought: this is the right place for me to be! So I gave it a try, submitted an application, and was accepted into the Kowalinski group at EMBL Grenoble. So far, I am very happy with my decision. Besides all the interesting research going on across the campus, Grenoble is also a wonderful city to live in, surrounded by mountains.

A major criterion for my choice of PhD was the opportunity to learn new methods such as cryo-electron microscopy for structure determination, as I only had background in X-ray crystallography. I am very excited to learn electron microscopy, and to use this technique to explore the biological function of my proteins and answer questions about their role in the cell.

Q: What advice would you give someone who wants to apply for a PhD at EMBL?

First of all, don't hesitate to apply. Even if you are not invited for the interview week, becoming a member of the shared applicant pool can already be of great help in finding the right PhD position.

For those who get invited, despite the stress of all the interviews it's definitely a great experience. You can socialise and network with many interesting people. The recruitment is a great opportunity to exchange knowledge, make professional contacts and get tips for your future career.

And probably most important of all: be yourself, have fun and enjoy the time!