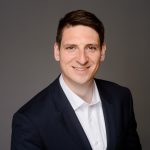 Management consulting is a career area that offers graduates – including PhDs and postdocs – a chance to apply their critical thinking skills to a wide range of problems in industry. For this career profile, we interviewed Dr. Benjamin Anstett of Trinity Life Sciences about his career, including his experience of working both for a large general management consulting company and smaller companies focused on the life sciences industry.
---
You are currently an 'Engagement Manager' at Trinity Life Sciences. Could you explain the career path that took you to your current role?
When I look back to my master studies, which I did in Heidelberg at the ZMBH, I wanted to become a group leader or professor. I was looking for different institutes to do my PhD in, and I found a group leader at the MPI of Biochemistry. I knew that about 95% of alumni stayed in academia and became group leaders or professors. So, I moved to Martinsried, near Munich, for my PhD. I was highly motivated and had a great passion for science, but in my second or third year, I wondered, 'is this really what I would like to do for the next decades or the rest of my life?', I clearly answered this with a no. I was a bit disappointed at this time point, as I wasn't sure if the pharma industry would be a good fit for me. But then I listened to a talk from a McKinsey consultant who studied physics but was working as a consultant for the financial industry in Frankfurt, and I thought this might be an interesting path for me. At the time at the campus in Martinsried, there was basically no advertisement for consultancies. So, this was quite new to me. I bought some books, started reading, and then I started applying for consulting workshops at the big consultancies just to get in touch with consultants. As soon as I was sure I wanted to go to consulting to broaden my horizons, I also started practising case studies.
After the workshops, I got a direct invite to first round interviews at a couple of the bigger firms. In the end, I got an offer from Bain and Company, which I was really happy about and accepted.
At the beginning, I wanted to be a broad and versatile consultant, not particularly specialized in a certain segment. While at Bain, I worked on various projects within the automotive, telecommunications and finance industries. However, I realized over time that my passion is in the life sciences industry. That's why I moved away from Bain. I had a short stay at Syneos Health at this point, but finally moved on to Trinity. I was one of five Munich office founders at Trinity, and I'm there for more than three years now. It's the perfect combination of applying my knowledge from my PhD – understanding how science works and its mechanisms of actions – but also combining it with the business side – how to sell a drug.
One thing I picked up on from what you just said is that consultants in big companies tend to have a broader portfolio. Are there other differences between your experience in a large consultancy and the smaller ones?
Larger companies like McKinsey, Bain and BCG (known collectively as the big three or MBB) focus on all kinds of industries and hire all kinds of different backgrounds. I also worked with people who studied music or arts. Trinity only works in the life sciences industry and currently employs about 800 people worldwide. Here, you only get exposed to life science projects. So that is a big difference.
Furthermore, hiring people in a smaller company is a bit different. At Bain, we had several thousand applications per year only for Germany, so competition is high. Most consultants stay with larger firms for ~2 years. At a smaller one, most people stay for at least three years and you become a valuable team member.
Regarding travelling, the consulting schedule is often four days at the big firms. So you get in the plane Monday morning and come back on Thursday night, and Friday you spend in your local office. At the smaller consultancies, there's typically less travelling. I only go to clients if presence is needed for a workshop or for a project closeout, pre-Corona obviously and hopefully at some point post-Corona.
How would you describe the typical career entry point into a consulting career?
The entry job title differs by company, but the job profiles are the same. In some companies, you start as an Associate Consultant; in others, you're an Analyst, or you start directly as a Consultant. In the first weeks, you get internal trainings. First, you learn how to use MS Excel properly. After my PhD I thought, 'I know how to use Excel' but after the training, I realized I didn't know anything about how to use it properly! You also learn how to use MS PowerPoint, how to organize your workday, and how to collaborate with global teams. And then you start on your first one to two projects. You get training at the beginning, but it's hands on; consulting is really a job where you learn by doing. You have your manager and senior consultant on the project who are also involved in your personal development, and this definitely takes some time.
What do you think companies are looking for when hiring, and what is most important for PhDs to work on?
What I personally always look for when reviewing CVs and talking to people, is what they are doing outside of their scientific bubble. This can be any interesting hobby or any voluntary engagement. In my case, I also did a one-year business economics course during my PhD. I wanted to understand the fundamentals of business economics, but it really helped me understand company financials. I don't say that's a requirement – and I didn't do it with the background of wanting to join consulting. I rather did it as I was interested in these things.
But more generally, do you have any voluntary engagements? In my case, I'm still heavily engaged as a diving instructor, and I do a lot of teaching of new diving students. But it can also be anything related to academia – we had a couple of people who volunteered for different organizations or were spokespersons for something. This is what matters.
What comes to my mind when you say that, is that you are looking for proactivity.
That's exactly it – we are looking for that. You can sit in your scientific bubble and get no exposure to anything else. And what we would like to see is you are also proactive. When you work at a consultancy, you are expected to go the extra mile, and you will also be involved in a couple of internal initiatives that are non-project related. And if you can already show on your CV that you are proactive about getting engaged with something, then the expectation is that you will also be getting engaged in your consultancy with some internal initiatives.
Then maybe we take a step back and talk about what it's like to work as a consultant. How similar is it to what you were doing as a PhD student, and what is different?
Definitely, there are similarities, but there are also differences. PhDs have a unique skill set: being able to work independently, being well-organized to plan your experiments, and you're used to presenting at regular lab meetings, and also conferences. Of the skills I've mentioned, I would probably say that working independently and being organized are the most important skills you need in consulting.
But there are definitely differences, and the greatest challenge, especially for PhDs with 9-10 years of exposure to academia, is that you need to change your mindset about how you think about data and how you present. To give you an example, if you look into a scientific publication, you see data, data, data – and at the end you see your model. That's definitely not how consulting works. If you're in the situation where you present to a C-suite level (a CEO or COO), they are usually not interested in the data. You have to start with an executive summary – so it's basically boiling down 5-6 months of a project into 3-5 key bullet points that they need to know about. If there's still time and interest, you can show them data – but they might also say "I'm not interested at all". So how you present and approach things are different.
In consulting, you start with your hypothesis, and you think, 'this is probably the expected outcome', and then you're trying to validate your hypothesis – but you can't know everything. I know a lot of PhD students who struggle a lot at the start of their consulting with this. They spent four or five hours building two slides because they couldn't find all the data. If I can't find any data within 10-15 minutes, I move on. That's maybe a bit rough to say, but that's how it is. You cannot know everything. Especially as you're sometimes working towards very tight deadlines, you really can't start 'boiling the ocean' and looking for each and every detail. It's just not possible. Your knowledge will increase with time the more projects and therapeutic areas you've been exposed to. But if it's a new project, and there are things you currently don't understand, you shouldn't be too worried about it. This is something that really annoyed me at the beginning. As a PhD student, I wanted to know each and every detail. And it took at least 6-12 months to adjust my mindset, and it's still in progress.
You've already talked about some of the things you do – like trying to find and understand the data, discussing with clients, and presenting your hypothesis to the clients – what's the balance of that for you, and is there other stuff you spend your time?
I'm working on six or seven different projects right now, so I provide a lot of guidance for my team, and I have different project team members around the world. So, how I usually structure my days is that in the morning, I review my emails and reply to the most important ones. One of the things you have to learn is which emails you have to reply to immediately, which can be answered by your team, and which can be neglected for the moment. Then, I use my morning time to review presentations and Excel models from the team and leave comments for them. Eighty percent of my team members are US East Cost based. I get things from them in the evening, and in my morning hours, I send them back. In the afternoons, I have my client meetings and internal meetings, and that's the time I present. I have meetings usually from 2:00 pm European time to 7:00 or even 8:00 pm.
As an Engagement Manager, you're the key connection point between the team and the clients. So, you get input from all project stakeholders, the team, leadership, and the client. That's the role in the management team – you are in between, the lynch-pin, between everything.
And for your team members, the balance would be different? More data and analysis and less presentation?
This is really something that depends on the manager. Personally, I don't favor micromanaging, instead Iencourage people to present.
One thing we do a lot are interviews with physicians, payers and patients. I do not always have time to do the interviews myself. Usually, I do the first two to three and leave the rest to my team. And if I present the material, I trust my team 100% that what they put on the slides is correct, but if there is a question from the client, I rely on the team to answer it. So, I am leading the presentations, but the team can jump in whenever they want because they are the experts. That's one thing that gets lost a bit when you get to the manager level – you don't get the in-depth insights anymore; as an Associate Consultant or Consultant, you are really into the data, and you do all the secondary research – you basically know everything. But as a manager, you are tasked with several projects, you can't be an expert on each and every topic.
What do you enjoy most about working in consulting?
I would say it's three things. First of all, you get exposure to lots of different therapeutic areas – I've worked on projects in oncology, vaccines, immunology, and cell and gene therapies – and I can still use my PhD knowledge and my understanding as a scientist. When I joined Trinity Life Sciences Consulting, I was going on Pubmed again and reading publications to understand clinical trials and mechanisms of action. That's something I really enjoy.
The second part is working with people. In my PhD, I was managing my own project. I was on my own although I had contact with other PhD students in the group – but I was working on my own stuff. In consulting, I can work with people all around the world, and get to know different work styles and cultures. I work with India teams, US East and West Coast, , and European teams.
The third thing is developing people. I experienced a lot of support during my consulting career – people who helped me develop, understand better and get better in presenting, building presentations, being a better moderator for interviews. As a manager now, I have the chance to give some of those things back. I really enjoy supporting my team members to help reaching their development goals.
Do you think there are tips – in addition to what we already covered – for scientists who would like to move into this area.
You should know what to expect. It is not a nine to five job – you have long working days and you get compensation for that.
You should also be prepared for the interviews. If you just think, 'I could imagine myself in consulting', and just apply – it will most likely not work out for you. More and more consultancies are offering workshops for scientists; I'd encourage people to take advantage of these. The consulting industry has one of the most standardized approaches to interviews, and you will be doing case studies. You should practice them beforehand.
I know that the big companies have example case studies on their websites. Is it enough to go through those?
There are also books out there that you can read and there are also websites. If you just google, you can find them. I'd also recommend practising virtually or face to face with someone. Just reading gives you an overview, but it's a completely different situation if you are sitting in a one-on-one situation, someone gives you a case study and a question you should crack in half an hour, watching you and taking notes. You should be prepared for that. Students with business economics backgrounds practice this a lot. When they are invited to consulting interviews, they've done multiple interviews beforehand. As a PhD student, I had one job interview in my career.
Is there anything else that's needed to succeed in the interviews?
It's mainly the case studies. But you also need to make sure your answers are concise. When I ask a question at an interview, I also expect the candidate to give me an answer to this question, not to tell me their whole story.
But you should really be yourself in the interview. Especially when you work in a smaller consultancy, you will work with the same people over and over again, so it's not only me getting to know the candidate but the candidate getting to know that company. Of course, I'm going through the CV, but I'm really interested in who you are – what are your scientific projects, what are your interests outside the job. Just be open minded and don't try to be anyone else. The likelihoods are quite high that if we hire them in Munich, they will work with our team quite a few times. And if a candidate doesn't feel comfortable during the recruiting day, chances are high that this will not work out.
I have one final question about skills – what are the expectations at your company in terms of languages?
English. This is one difference I didn't mention earlier. For the big consultancies, they have offices worldwide, even in the smallest country. If you work in the Munich office, in one of the big ones, then you're expected to work in Germany, Austria and Switzerland, and to speak good German. But if you work at Trinity – we have offices in Munich and London in Europe, then we have offices in the US and India. Our clients are not only Germany-based. I work with clients in the US as well as Europe. English is the standard language in pharma and biotech. In our office in Munich, we have three Germans, and ten internationals. So, English is standard, but other languages are of course appreciated.
Is there anything that we didn't talk about that you think is important?
Don't underestimate networking. During my PhD I didn't really do it – but don't hesitate to reach out on LinkedIn or at a job fair to a consultant if you are interested in learning more about the company. Of course, if you approach on LinkedIn and say 'hey, what's consulting', I'm only going to reply with a one-liner. But if you're interested to learn how it's working at Trinity, just connect on LinkedIn. That's why we have these networks. I did this a lot when I was applying to consultancies. I even went for dinner with a consultant for a few times to better understand what his work life looked like at the company.
—
Benjamin can be contacted on LinkedIn.
EMBL fellows and staff members can find and contact former staff/fellows working in consultancy roles via the EMBL Alumni Directory. Please see our article on informational interviews for ideas on making the most of such opportunities.