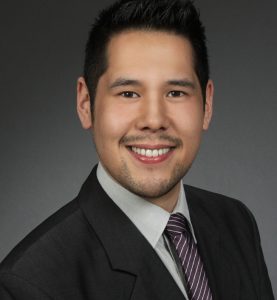 Have you interacted with sales representatives during your PhD? If yes, most likely you told yourself that you would never be working in such a career area. Job opportunities in sales are usually underestimated by PhD holders, but this career path offers a variety of opportunities for scientists to use their technical knowledge and connect to the scientific community. In today's interview, Dr. Gary Kusdian, a molecular biologist based in Germany talks to us about his career path in sales while giving more insights to the key skills and factors to take into consideration.
You can find the full interview below and if you are interested in this career area, you can find additional information on:
---
Can you tell us a bit about your scientific background and how and when did you become interested in a career in sales?
I studied Biology at the Heinrich Heine University in Dusseldorf, Germany, and I obtained my diploma thesis at the Institute for Molecular Evolution under the supervision of Professor Bill Martin, who is a well-known scientist in the origin of life field, and Sven Gould. During this period, I worked both in the wet and dry lab with a human pathogen called Trichomonas vaginalis. My research focused on the cytoskeleton and we identified putative proteins which contribute to the cytoskeleton rearrangement during the infection stage.
I have to admit that after school I did not know what to do. I had a lot of different interests. One of them was computers but also biology. In the first place, my interest in computers took me to do an apprenticeship at Epson, a company producing printers, scanners, video projectors and more. This apprenticeship programme was called "Commercial Clerk in IT business" and this is where my commercial background stems from. However, a position like this one for the rest of my life was not appealing to me. So I decided to study Biology and after that, I pursued a PhD.
During the PhD, I realised that academia was not the right fit for me in the long-term. I was not passionate enough about research and I was not satisfied with the fixed-term contracts and the limited income. If you look at academic careers you eventually can become a professor but the probability of success is low. This is why after receiving my PhD I decided to go back to the industry sector. I kept an open mind and applied for several positions in sales, marketing as well as research and development because I enjoyed the lab work and did not want to miss out on this. Sales were simply one of the potential career paths that I was interested in but I never said: "Okay, I definitely want to go into sales!"
You work as Account Manager in Germany, what does this role involve?
This type of roles entails customer management along with sales responsibility, so in a nutshell, I have to provide self-reliant customer consulting and support service. My main task is, of course, to sell. And when a product is sold, I am in charge of providing support. I go to the customer and show them how to use the device. Moreover, I deal with service issues if something does not work or if the customer has questions on using products such as pipettes for example. It also involves the acquisition of new customers and maintenance of business relations as well as sales promotions, gathering and analysis of customer and market data and product demonstrations. For example, with pipettes, I give technical talks about the factors that influence accuracy. Overall, it is a pretty diverse job and every day is different. This versatility makes it a lot of fun!
The word "sales" has some negative connotations and PhDs usually underrate this career path. What excites you the most about your position?
Yes, I remember well during my PhD when I met sales representatives from different companies and I thought to myself: "Wow, I would never do this".
The interaction with other people is definitely what excites me the most. I really like to communicate and to receive direct feedback on my work. These two aspects are very unique to my position. You can see if you succeed with your product and if you win a project or not. And this is a form of direct feedback which I really like from working in sales. You also have this huge level of autonomy. I am my own boss and I am the one creating my schedule for the week. Working hours are very flexible and I do not have to be in the office from 9 to 5.
Which are the key skills necessary to become an effective sales specialist?
Definitely communication and interpersonal skills. You need to be self-confident and show others that you enjoy your job. If you are very introverted, quiet and shy, and have difficulties approaching others, you would have a hard time working in sales.
You also need to have a high tolerance for frustration because you will have projects which will not work out well. And here you really have to motivate yourself. But I think this is in the nature of academics anyway. When an experiment is not working, you have to motivate yourself to keep going and try again. And this applies to sales too. For example, think of customers who have a complaint. If something is not working, you need to have the self-confidence to stand your ground. You do not want to be rude towards them but rather negotiate and find a solution for the problem. Moreover, being organized, having experience organizing and teaching courses and supervising bachelor and master students, is also very helpful. On top of this, English language skills are also a key point. Most of my customers speak German and we usually interact with technicians who often speak German. However, I regularly talk to customers who are not German speakers and business interactions have to take place in English.
Finally, a commercial background makes the transition easier. For example, I did not plan to go into sales. However, in the end, having this commercial background from my apprenticeship and my studies in biology was a perfect blend. I can combine both of these worlds and succeed in sales now.
Which are the other roles in your company that you interact the most with?
As an Account Manager, you are more or less a single player. You have your territory and you do not have to interact with colleagues every day. This means that most of the time you are working alone making it an interesting topic to consider. If you like being in an office, having colleagues around you and interacting with them, going into sales might not be the right decision for you.
When working with colleagues, most of the time I work closely with our Dealership Contact or Sales Representatives, and of course with our supervisors who are the Zone Directors. With them, I have to define what kind of discounts I can grant or how we deal with different projects. In the headquarters, we have the sales support and order processing that I contact regularly for orders and quotes which have to be arranged for customers. Moreover, I have to closely interact with our technical product support if there are inquiries regarding, for example, the chemical resistance of some rotors.
We often hear that sales specialists live out of their suitcase. How is the travel workload for these positions?
This very much depends on your territory and how each company manages this. Let me give you an example. If you look at the northeast of Germany, this is a huge territory with few universities, research institutes and biopharma companies. In this case, working there would involve travelling a lot and maybe staying in a hotel overnight.
However, if you work in an area with a healthy and dynamic academic and private sector, the situation can be very different. This is my case and it only takes me a maximum of one hour to get to most of my customers by car. I do not have to stay at hotels. In the afternoon I come home, I have my hobbies and I can enjoy my private life. In summary, depending on your territory you might have to travel a lot or not.
How does your work-life balance now compare with the work-life balance that you had during your PhD?
Way better! In the first place, the income is higher. Moreover, the treatment you receive from your employer, in my case Eppendorf, is far better. During my lab time, I always had to come in on weekends because I was working with living cell cultures. In my current role, you have a fixed number of working hours that you have to meet, and everything is organized in a way that weekends are of course free time. Also, if you work in field sales you have a company car and as soon as you are in the car you are on the clock. If you get stuck into a traffic jam, this counts as working time which is very fair. So yes, from my experience the working conditions and work-life balance in the industry are better than the ones in academia.
What is the type of job titles for entry-level positions and how is career progression in sales?
I can only speak for Eppendorf regarding the evolution of these positions but when I was applying for jobs there were a lot of positions called "inside sales". Inside sales involves doing sales via telephone, via Zoom and Skype and so on. This is seen as an entry-level position for candidates with an academic background. Also taking over the task as a technical product support specialist is a great opportunity as an entry position. In this role, you act as first point-contact for unspecified technical customer enquiries and distribute enquiries to Service, Sales and Application, as necessary and also provide support for account managers on detailed product-related questions. In my case, I started directly as an Account Manager in the field. Honestly, there are no obstacles to starting at this level; however, having experience in business economics or sales in general, might be advantageous. More senior positions include Zone Directors, where you are a team leader with supervisory responsibilities require more experience. For career progression, for example at Eppendorf, having the very basic knowledge of our products and the overall sales structure is very valuable and help to evolve and succeed in other departments and branches of the company.
What are the differences between your role and other sales-related positions as Product Specialist or Product Manager? How do they relate to marketing?
The Product Manager does not sell any products but rather manages a complete product group in terms of strategy and entrepreneurial results. At Eppendorf the functions are called Business Manager or Product Life Cycle Manager. The Business Manager takes the responsibility to further develop products over the entire life cycle worldwide in close cooperation with departments such as Sales, Quality and Marketing. They also develop the strategic marketing plan for the product group in close collaboration with our Global Marketing Team. As a Product Life Cycle Manager, you are responsible for the commercial success of the respective product group from market entry to product discontinuation. You define, prioritize and support the strategic go to market plans and activities in cooperation with the respective marketing and sales functions. In addition, you are also in contact with the application and sales team for all product related questions. Another function at Eppendorf is called Application Specialist. In this role, you are responsible to analyse current and future life science workflows and develop solutions for the complete Eppendorf portfolio. You develop application-related requirements and concepts for new products as well as for planning and evaluation of application tests. You support the international sales team and end-users (e.g. contribution to and execution of trainings and workshops).
Regarding the second question, product management is responsible for the overall marketing strategy. However, as mentioned above, they work closely with the Global Marketing Team. Marketing is responsible for planning different promotions/campaigns (e.g. for product launches) or materials such as the design of brochures. With the popularity of social media, it now involves planning and promoting products on Facebook, Instagram and other platforms. Marketing is a supportive role to sales because they work towards increasing the sales numbers for territories and account managers.
Which are the main differences between working for a big manufacturer or a small one?
If a small company is not well-established, most likely you will face difficulties with customers. You will have to explain yourself more and convince the customer to test this enzyme or this kit. This is the main difference when working for a big manufacturer, you do not have to worry about building a reputation. I would not work in sales for every manufacturer. Being aware of working for a well-established company offering high-quality products makes a difference. A sales position in a company like Eppendorf translates into being an expert on which methods to use and which product solution is the best.
Why are PhDs hired for positions in sales?
Let me tell you my story. When I was close to finishing my PhD I went to a career fair where different manufacturers and employers promote their companies. In this event, Eppendorf was there but also a company that analyzed the job market and career opportunities for scientists. Their findings were pretty demotivating and while they showed a lot of career options for scientists in physics or chemistry, this was not the case for biology. An evidence-based analysis of science positions in Germany showed that biologists, even with a PhD, were unemployed for at least one year before landing a position. Unfortunately, I even noticed this during my time at the Institute for Molecular Evolution. Some colleagues were unemployed for a year until they got a job.
This was disheartening but I was motivated to make the leap back to the industry setting and in this career fair, a representative from Eppendorf encouraged me to send a speculative application. There was no exact job opening for my position, but the company reviewed my CV, invited me for an interview as an Account Manager in southeast Germany and finally offered me the job. Scientists are hired because it is easier to teach a scientist how to sell than teach a business person biology and how scientist think. This is why the sales force at Eppendorf only comprises scientists. From my personal experience, I can say that having a PhD makes sense. As soon as you give your business card to a customer, for example, a lab manager, a technician or a professor they see you as one of them. And this makes a difference because somehow you are more accepted from the beginning. So, yes, having a PhD can be an advantage but it is not a requirement.
Is there anything else you want to mention?
Develop self-awareness, know your strengths and use them! Find out what kind of person you are. Do you like communicating with people? Are you creative and enjoy creating figures? This is for me the most important piece of career advice – know yourself. Also, do not stay too long in academia if you want to go into industry. The longer you stay in academia the less interesting you become to companies. So if you are undecided, I would recommend you to face the career-decision making process as soon as possible.
---
Gary can be contacted by email at Kusdian.g@eppendorf.de and on LinkedIn.
The transcript of this interview was done by Christian Hellmann and Patricia Cabezas.