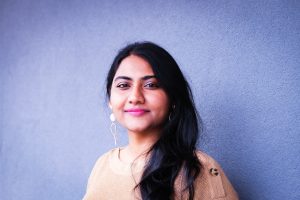 Scientific illustration is a well-established career path in the USA but lesser-known in Europe. Radhika Patnala, a neuroscientist by training now based in Germany and founder of Sci-Illustrate, decided to start her own scientific illustration company two years ago to help researchers and institutions to communicate science in a more visual and comprehensible way. In today's interview she shares her experience as an entrepreneur in scientific illustration.
If you are interested in this career area, you can find additional resources at:
Tell us about your scientific background.
I started my scientific career in India, where I obtained a bachelor degree in Biotechnology. I had a strong interest in the field, so later on I moved to Australia to expand my knowledge in biotechnology at the Australian National University, and finally I decided to pursue a PhD in neuroscience at the National University of Singapore. My specific scientific expertise is neuroscience, in particular neuroinflammation, epigenetics and ischemic stroke.
When did you first identify scientific illustration as a potential career?
About the time I was finishing my PhD I started to consider the idea of doing scientific illustration professionally. I have always been interested in art, and even before starting my scientific training, I had already started my art and design journey. My mother is an interior designer and I grew up seeing her using graphic design software or making watercolours sketches for her projects. I come from a family where art and design was a big part of life, and fine arts became one of my childhood hobbies. Not to mention, both of my parents were also entrepreneurs. Thus, creating a company that allowed me to blend my passion for art and science seemed an intriguing choice for me.
How was Sci-Illustrate born and when?
After 10 years in the biotechnology field, when finishing my PhD, there was a very strong decision to make about my professional future. Pretty much all the PhDs and postdocs come to that decision point sooner or later. If you want to continue on the traditional route of being a wet lab scientist, then you do a postdoc and you assume that eventually you will be able to become a group leader. That's the traditional journey that every PhD student entering a PhD programme knows and aims for. That's what graduate school does, train us to become lab leaders. However, at that point I realised that an academic career was not the path I wanted to take and then I confronted the questions – what else would I like to do with my time? And where else can I apply my training as a scientist and my personal skill set to benefit the community I see myself in? The decision to establish my own company was not easy but my personal background and experiences even before I became a scientist had already paved the foundation for creating Sci-Illustrate. While growing up, I could see my parents establishing their own companies, and I was exposed to the entrepreneurial journey from a young age.
How do you value your PhD training into your current role?
After two years running Sci-Illustrate, I definitely appreciate the value of my PhD to run my own company. A PhD requires a lot of self-reflection, self-discipline, scheduling and prioritising tasks, having the conviction to aim for something and go after it, and those are skills that you need to become an entrepreneur. Some have asked me if I ever thought that doing a PhD was unfruitful because I changed fields, or why I did not invest those 5 years in learning how to make 3D illustrations and animations instead. But on the contrary, my PhD was the most important time of my life to get to this point. On one hand, it prepared me to better understand the health care system including who are the key players and stakeholders. This type of exposure is necessary before you can ask yourself how you can truly contribute in a community. On the other hand, doing original research is very hard, performing literature reviews, coming up with novel biological questions that are relevant, keeping up with the ups and downs of lab research, emotional hurdles… Those 5 years are very transformative periods for everyone and you learn how to manage people, how to manage expectations and many different soft skills that are also extremely useful when establishing your own company.
What did you find the most challenging when transitioning to your new role?
The most challenging aspect during the transition, even more than skills or finances, was questioning my own identity as a scientist. During conversations I have found that many young researchers struggle with what being a scientist actually means. Is the identity of a scientist tied to a lab bench or association with an institution? I don't think so. And what role do scientists play outside of academia and research in the scientific ecosystem? I think as science grows more complex; the world is depending on talented people with scientific backgrounds to fill in new diverse roles that may not have existed before but are needed now.
It took me a long time to understand my own identity. There was a lot of self-reflection on understanding more about myself, what motivates me, what I wanted to do for the rest of my life and how I could make the most of the impact with my unique skill set. I had to ask myself a lot of important questions during the decision-making stage, which were all tough but necessary questions to ask oneself during such a transition.
How does your work-life balance compare to your previous academic position?
Running your own company and being your own boss is a very different state of mind to be in. The security of having a permanent job allows you to plan your life and do more things. Having your own company limits you, particularly at the beginning. The first two years are fundamental to establishing things and getting them up and running. I am working quite hard these days and – after 2 years – managing my time more effectively is becoming more important. In particular, learning how to balance work and life and how to make a separation between both of them.
How do you see the field and the job market for scientific illustrators evolving in the next 5 years?
I already see improvements compared to when I started and there seem to be a lot of more people interested in it. The market in the USA is already very strong. Being a scientific or medical illustrator is already considered a very serious profession and there is also formal education to become one. In Europe that it is still lacking and the need for this type of support service is still not fully recognised. For example, it is almost taken for granted that scientists need to be able to communicate science to be a good scientist. I think institutions are slowly realising that there are better skilled and better trained people at communicating science and I now see funding bodies allocating a part of grant budgets to science communication and public outreach efforts. The market is already changing and I do see a trend towards the positive as far as science communication is considered.
If possible, could you share some information about some of your projects?
My work was featured on the cover of Cell in September 2019. This was a project that I did with the Genome institute of Singapore and Duke NUS.
I did a Poster design and Identity project with John Hopkins School of Medicine, for a new speaker series a while back. This project was very exciting because we were treating all speakers like rock stars and there were dedicated posters for all of them. Scientific illustration can help make the way we conduct seminars and celebrate research more exciting.
We have also had a lovely in-house project for a year now called the WIS series under Sci-Illustrate Stories, where me and my team collect and tell stories about Women in Science through Art and Words. On the side, I also like to do some personal projects and science-inspired art from time to time. In fact, one of my personal art pieces will be featured in Nature Reviews Neurology for all of 2020.
What advice do you have for early career researchers considering a career in scientific illustration?
One piece of career advice, not limited to a scientific illustration career, would be to self-reflect and understand what skills they have. Every single person has a unique skill set and they might be especially good in certain things. Getting to know that piece of information is fundamental to assess what career path is the best one to take. Give yourself enough time to understand what you can do, do not simply emulate what other people do.
At the moment, scientific illustration as a mainstream career still does not have a well-established place in the scientific and research ecosystem. For the moment full time jobs in this field are almost close to none and that means that if you choose to become a scientific illustrator then you effectively choose to become a freelancer, which is a very hard choice to make. You need to have a lot of clarity before you take that path, because there is a lot of hurdles and responsibilities associated with becoming a freelancer and not having a full-time job.
Is there anything else you want to mention?
Networking is important. We live in world where a lot of stuff works on who you know and how much do they trust you, so investing time on cultivating and building good relationships is important. Another important attribute I would advise for graduate researchers to cultivate early on is to be sincere and dependable. It is something I look for in candidates that I choose to work with, and it is an extremely important skill to provide in the professional world.
---
Radhika can be contacted by email at radhika@sci-illustrate.com, or on LinkedIn.