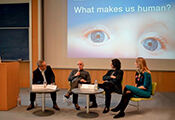 The Science and Society initiative at EMBL aims to promote a better and broader understanding of the growing social and cultural relevance of the life sciences.
We organise a variety of activities and events where members of our scientific community, scholars from other disciplines as well as members of the public meet to engage in a dialogue.
The formats of the programme range from the annual EMBL-EMBO joint Science & Society Conferences, to regular forum lectures, symposia, discussion meetings and the Heidelberg Forum "Biosciences and Society".