New dates released – EMBL School Visits Programme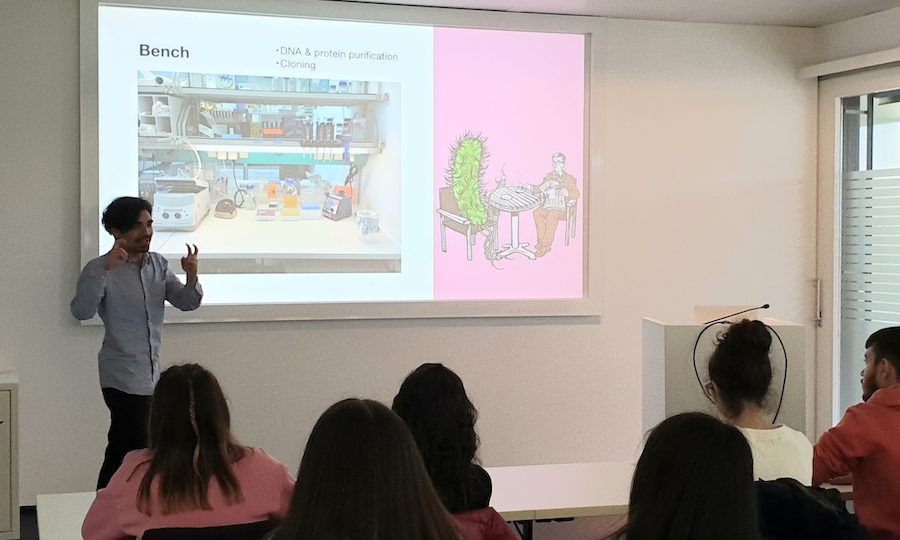 Did you ever want to visit the EMBL campus in Heidelberg with your school? We are happy to announce the dates for the EMBL School Visits Programme for the first half of 2020. Apply now to visit our campus for a two-hour experience tailored at high school students from around Europe!
What will change in 2020?
Due to a limited capacity to run school visits in 2020 and the high demand of visits, there will be some changes to how the visits will be run next year. Rather than offering one visit slot per school, we will open one slot for multiple schools up to a certain capacity. The visit programme will then be run for this larger group as we did previously for the visits which were attended by just one school at the time.
All visits will be run from 9:30 to 12:00 (morning slot) and 14:00 to 16:30 (afternoon slot) on selected Fridays throughout the year.
As we receive a high number of applications and want to keep the programme open to all countries and schools, groups will be selected by the following criteria:
Maximum of four schools per country per calendar year
Priorities will be given to countries with lower attendance rates
Maximum of one visit per school per calendar year
Priorities will be given to schools which have not attended the previous calendar year, or which have not visited previously at all
The good news is that the new changes will now allow school groups to attend with a lower minimum number. The minimum number for groups has been reduced from 20 to 10 individuals, including accompanying staff.
New dates & more information
To view the new dates and learn more about visiting EMBL, please read our designated guided visit page: https://www.embl.org/ells/school-visits/
What is the EMBL School Visits Programme?
If you and your students are keen to learn about the latest developments in cutting-edge life science, ever wondered how a real wet-lab looks like and are interested in meeting the people behind the research, then a visit to the European Molecular Biology Laboratory (EMBL) (www.embl.org), Europe's flagship laboratory for the life sciences, located in Heidelberg, Germany might just be right for you and your school!
The European Learning Laboratory for the Life Sciences (ELLS) (www.embl.org/ells) – EMBL's education facility – is offering guided visits to EMBL for school groups from across Europe at selected Fridays throughout the year.