What is WordPress?
WordPress is the most widely used content management system that powers over one-third of the world's websites, from small personal blogs to the complex sites of major corporations such as Sony, Time Inc., the New York Post, and NBC.
When it comes to content management, we believe that WordPress gives the best possible solution for both non-experienced and advanced users. It provides the tools and resources needed in order to easily build new pages, quickly edit existing content, run a blog and much more.
In the past two years, digital and design teams in EMBL's Communications group have been collaborating closely with the IT team in Heidelberg and the Web Development team at EBI to customise WordPress platform and to meet EMBL's look, feel and requirements.
Achieved milestones:
using the Visual Framework (a front-end toolkit to quickly build better life science websites);
integration with contentHub and EMBL Taxonomy;
building several WordPress themes;
developing dozens of blocks and plugins to improve the editing experience.
In this post I would like to briefly take you through some of the features and benefits of EMBL's WordPress group microsites.
1. Easy to use
It goes without saying that all of the benefits wouldn't mean much if they were not accessible to anyone. No need to worry if you haven't had prior experience with any content management platform. One of the reasons why WordPress gained such huge popularity is the ease of use. With a simple, intuitive interface, the learning curve is incredibly short and fast.
Whether it is adding a new page or a new blog post, managing users, customising templates – it's all just a few clicks away.
To help you with a smooth transition to a new installation, the digital team will be supporting you with detailed user guides, screencasts and on-site/remote training.
Adding a new page
2. Taking matters into your own hands
Being a content owner and a site's administrator brings more advantages. You will be in control of your pages with an ability to edit them immediately. This saves a lot of time spending on exchanging emails, sending requests, attending meetings, explaining your needs, previewing changes and so on…
Please keep in mind that it also doesn't mean that the digital team will leave you alone with your site. We'll still be providing all necessary technical support and help in content building.
3. Accessible from any device
No matter if it's your laptop, tablet or a mobile phone, you can make changes to your site anywhere you are, as long as you have access to the internet. You are able to correct a typo, add a notification banner or even write a blog post while waiting for a bus. As simple as that.
4. Visual Framework integration
With multiple customized blocks, building content has never been easier. You don't need to bother yourself with questions about how to style your content. The WordPress microsites are powered by Visual Framework and use its component library. From tables, cards, lists to buttons, you will find everything to create eye-catching content that meets EMBL corporate design.
Adding a card component
Adding a box component
5. WordPress Media Library
The WordPress Media Library is a directory of every single media file that you have uploaded to your site (regardless if it is eventually published or not).
Feel free to check out the long list of accepted file types in WordPress but know that the primary categories like images, videos, audio and documents are all accepted. Wherever you upload the media to your site, it will show up in the library, where you can view, edit and manage your media files.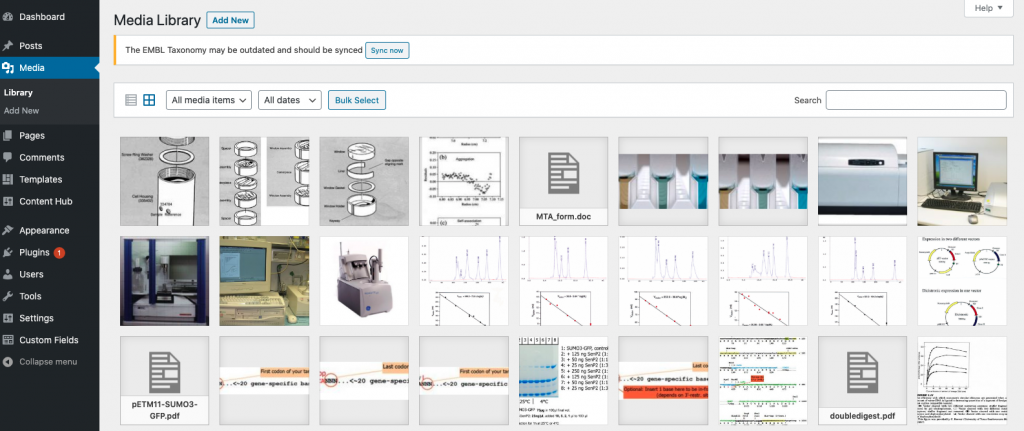 6. ContentHub and EMBL Taxonomy integration
ContentHub is a centrally managed database that contains content from EMBL's websites in a shareable form. The system based on Drupal, for example, collects categories, tags, or metadata into 'vocabularies' that allow the site builder to connect, relate and classify a website's content.
Long story short, it means that you will be able to configure, tag and display on your site the content (news, events, jobs and more) that is relevant to your group.
With the Business Data Repository (BDR) you will never have to worry about updating your team members or publications lists as this data will be pulled automatically from the EMBL database.
Adding news related to Covid-19 topic
7. User roles
To improve efficiency and effectiveness of the content management, you are able to add as many other users as you want and determine their editing permissions.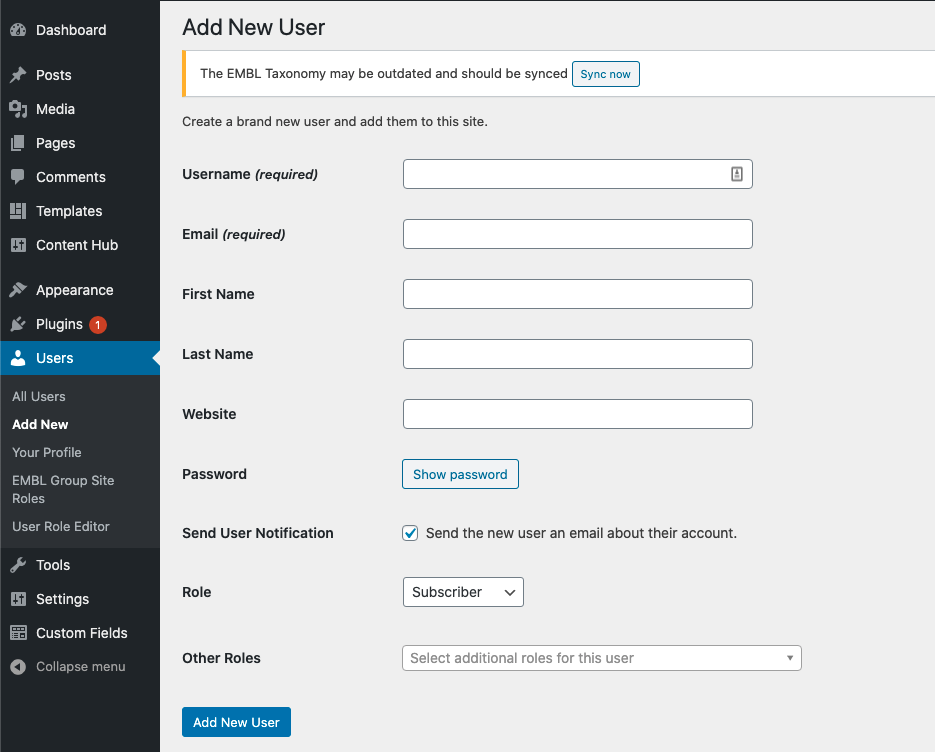 8. Customisation options
After receiving your microsite, you're not limited to its default appearance. The WordPress group theme provides flexible solutions to meet your needs and gives you an option to build page templates. As an example, let's take a group header where you can easily customise its look by changing variants and adding an image of your choice.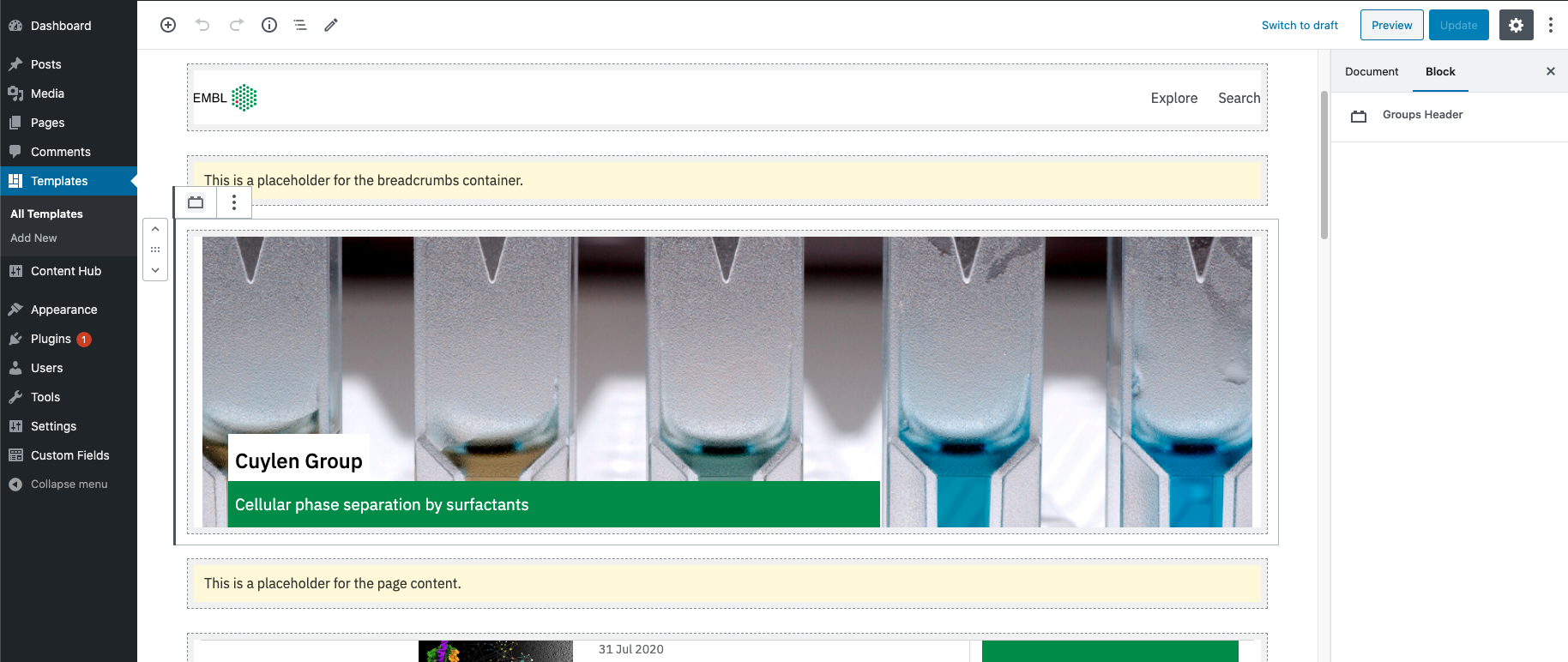 9. Blog
The group site gives you an opportunity to run your very own personal/team blog. Get others to know you better, reach more people, show how you work, share some team facts, make announcements. All of it is now within arm's reach!
10. Analytics
Along with the group site, you will get an access to analytics dashboard that will display all the relevant data limited only to pages on your site. No need to dive deep into the Google Analytics world. Everything you need to know about your visitors and high performing content on a single page.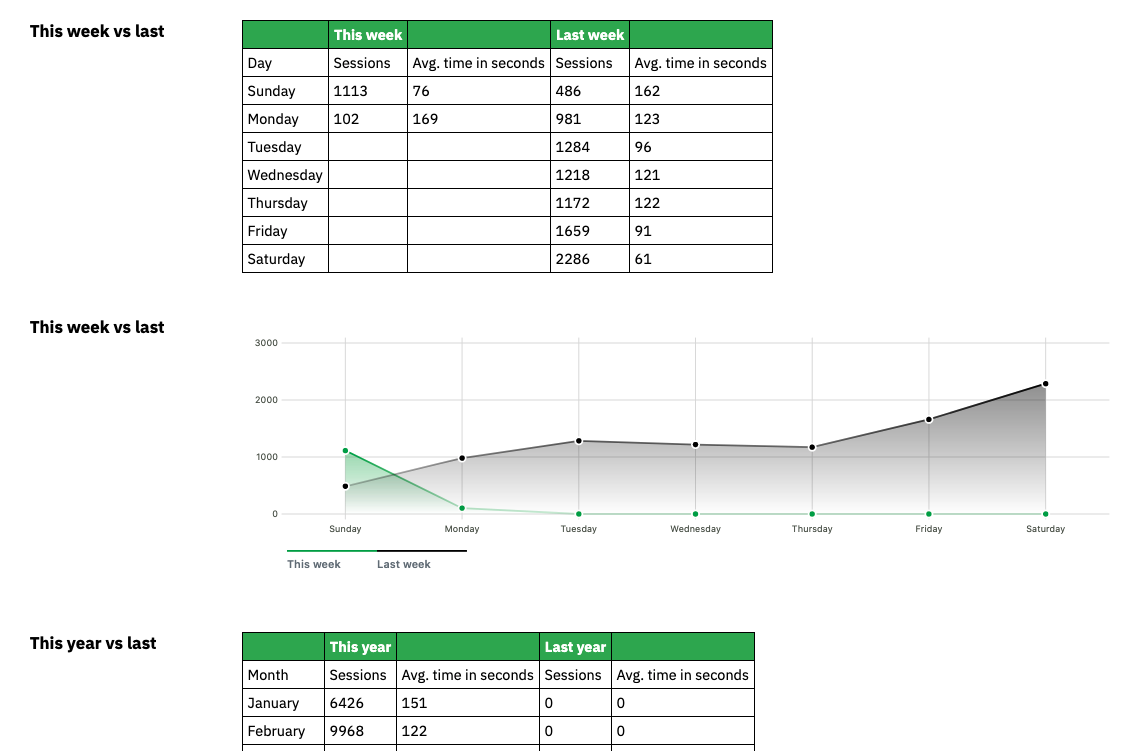 If you have any questions, comments, suggestions please send your feedback to digital-comms@embl.org.
Stay tuned for more updates from the digital team!